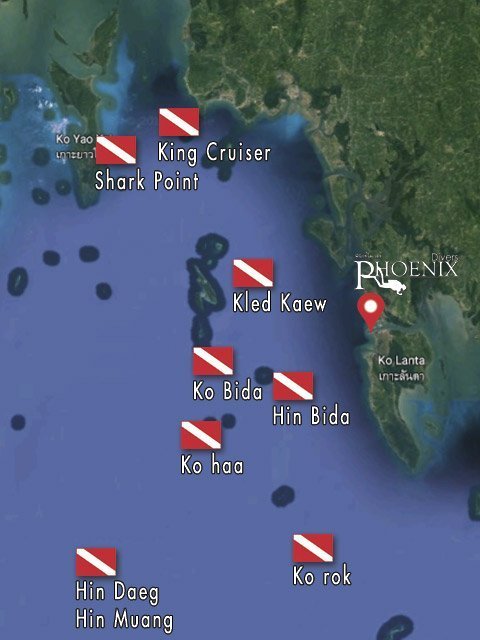 Click and read more about Koh Lanta dive sites!
Koh Lanta Dive Sites available in a short time and away from the crowded dive boats operating from Phuket and Krabi or Lanta as well, because of our speedboat, so we can get there in less than 1 hour (2 hours for Hin Daeng Hin Muang). Shallow reefs, deep drop off walls, pinnacles, undersea caves all form part of the diving adventures you can experience from this island. From tiny seahorses and pipefish to huge Manta Rays or Whale Shark. Therefore you cannot miss none of them, especially Koh Haa, Hin Daeng or Hin Muang.
In Nuts: should you wish to try diving, get started with our open water course, come with us to Koh Haa.
Want more? Try Hin Daeng and Hin Muang and complete your advanced open water course!
Koh Lanta Dive Sites with Phoenix Divers Comfy Speedboat to get there faster and with more fun!
Come and have more fun with us! Because in all these dive sites you can also do Snorkeling or try Freediving with our experienced instructor or learning how to improve your photography skill with our underwater photography course!
Click on the sites list to get more information about all the scuba activities we offer from Ko Lanta.