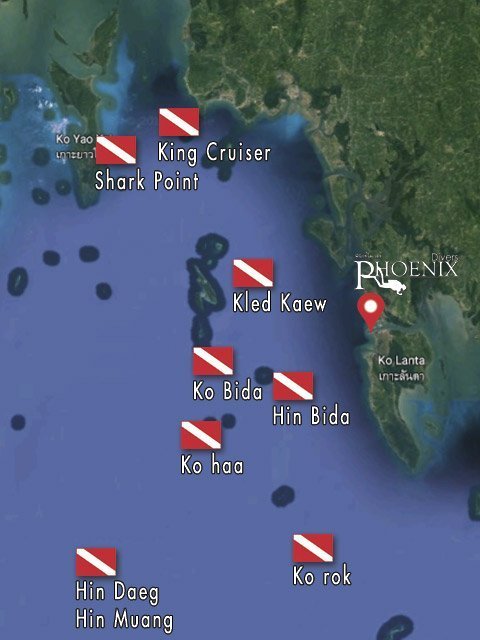 Only Koh Lanta Best Dive Sites with us
Thinking of coming for a scuba holiday in Koh Lanta, Thailand, but not sure what it has to offer? You're in the right place to find out! Koh Lanta Dive Sites have many things to offer. We have spots that are world class. White sand beaches, crystal clear water and abundant sea life – these are just some things guaranteed here.
Out of all possible places for diving, we have chosen the best ones for our clients. From the incredible Hin Daeng to the famous Koh Haa, we will take you everywhere worth going. Most dive sites are available in a short time with our fast speedboat. With our dive trips, we usually arrive to a location in less than 1 hour and due to the timing advantage, we are always away from the crowded dive boats operating from Phuket and Krabi.
When it comes to the underwater life in Koh Lanta, you can expect anything and everything. From tiny seahorses and pipefish to huge Manta Rays or Whale Sharks. These amazing creatures can be found on our shallow reefs, deep drop off walls, pinnacles, undersea caves that all form a part of the diving adventures you can experience from this island.
Join our dive trips whether you want to try diving, get started with our open water course, or just to enjoy the beauty of Koh Haa. Want more? Try Hin Daeng and Hin Muang and complete your advanced open water course! Or, improve your photography skills with our famous underwater photography course!
Koh Lanta Dive Sites with our comfortable speedboat get you there faster and with more fun!
Come and have more fun with us! If you are not a scuba diver, don't worry! We have something for you as well! You can do Snorkeling or try Freediving in all our dives sites with our experienced instructors. Do not forget to take into consideration that Koh Lanta island is a flawless location in Thailand for your IDC, the PADI Instructor Course.
Click on the list of the dive sites below to get more information about what each site can offer you.