Koh Haa Diving Site for beginners and experienced divers, snorkelers and freedivers!
Once in Lanta, go scuba diving to Koh Haa is a must! The islands are six beautiful uninhabited limestone islands 16km west of Koh Lanta, inside the Koh Mu National Park. Discover Scuba diving has never been so easy like here, thanks to good visibility of lagoon shallow water.
Said that they are the best place for beginners and snorkelers, they have as well more challenging and exciting areas for the experienced diver, like some deeper area in Koh Haa number 4,  Koh Haa Yai or in Koh Haa Chimney.  Freediving as well cannot be missed in the cave or cathedral of Koh Haa.
Whale Shark might be spotted all year around even though Koh Haa diving site is more famous for Tigertail Seahorse, Hawksbill Turtle, Bluspotted ray, Spotted Garden Eels, Pipefish, Gosthpipefish, Barracuda and Banded Sea Snake. See most of these beauty simply by snorkeling in Koh Haa Lagoon with our experienced guides.
Ah yes, Koh Haa means five islands but actually they are six, so Welcome to Thailand! Click on the images below to discover more about this diving and snorkeling area. The landscape itself, is an unique postcard from the whole Krabi and Thailand spot.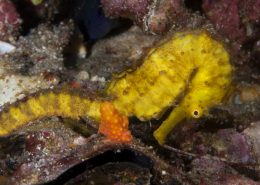 Koh Haa Yai (Koh Haa 5) The largest island in the Koh Haa group and famous for the huge cavern called " The Cathedral".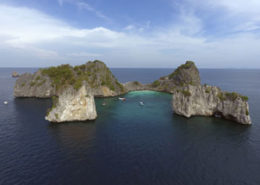 Koh Haa Lagoon consists of 3 islands, Koh Haa 2,3 & 4. It is a paradise lagoon and great for all levels of divers and snorkelers.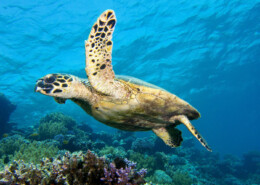 Koh Haa 1 is famous for the tunnel system on the southwest corner known as "The Chimney"