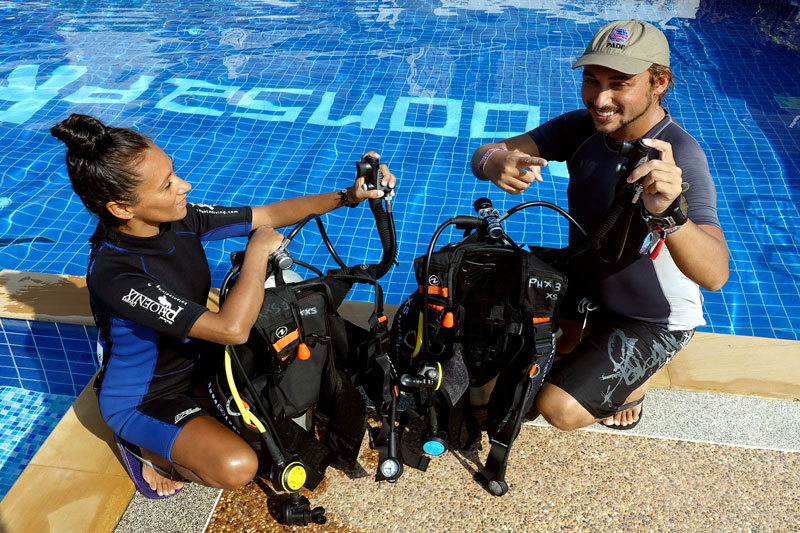 Open Water Koh Lanta and you will dive with us the Koh Lanta National Park! If you've always wanted to learn how to scuba dive, discover new adventures or simply see the wondrous world beneath the waves, starting with Phoenix Divers in Ko Haa, Koh Bida or Koh rok is the way.
The famous Open Water Course, as the PADI standard course, is the world's most popular scuba course, and has introduced millions of people to the adventurous diving lifestyle. Start your scuba certification online.
Open Water Koh Lanta with Phoenix Divers Koh Lanta will be your first unforgettable step into the diving world!
What You Learn
The PADI Open Water Diver course consists of three main phases:
Knowledge Development (online, home study or in a classroom) to understand basic principles of scuba diving
Confined Water Dives to learn basic scuba skills
Open Water Dives to review your skills and explore!
If you've tried diving through a Discover Scuba Diving experience or resort course, the skills you learned may be credited towards a portion of the full PADI Open Water Diver course certification.
The fun part about this course is… well, just about all of it because learning to dive is incredible. You breathe underwater for the first time (something you'll never forget) and learn what you need to know to become a certified diver. During the course, you'll make at least five pool dives and four dives at local dive sites under the supervision of your PADI Instructor.
Click here to add your own text